Joey and I decided to go to London for his second visit and to celebrate New Year's Eve in the city because he had never been and it is one of my favorite cities to visit.
We landed in London and by the time we made it to our hostel and settled in, it was late evening with just enough time to go on a quick night time adventure. We spent the night at Winter Wonderland in Hyde Park. Winter Wonderland felt almost like a Christmas themed state fair or a cross between an American fair and a European Christmas market. There was lots of fair foods, most common options were churros, kebabs and falafel, fries and various meats. There was plenty of mulled wine, cider and beer to wash the food down with. There were cute stalls full of little gifts and Christmas themed products like ornaments and fake snow, as well as stuffed alpacas and fuzzy hats. There were huge, brightly lit and colorful rides, roller coasters, and ferris wheels.
Joey and I walked around the market stalls and had a postcard made with our own photo before we hit the bar for a beer and a mulled wine. We had our drink on a carousel bar which had tables set on fake horses and actually spun!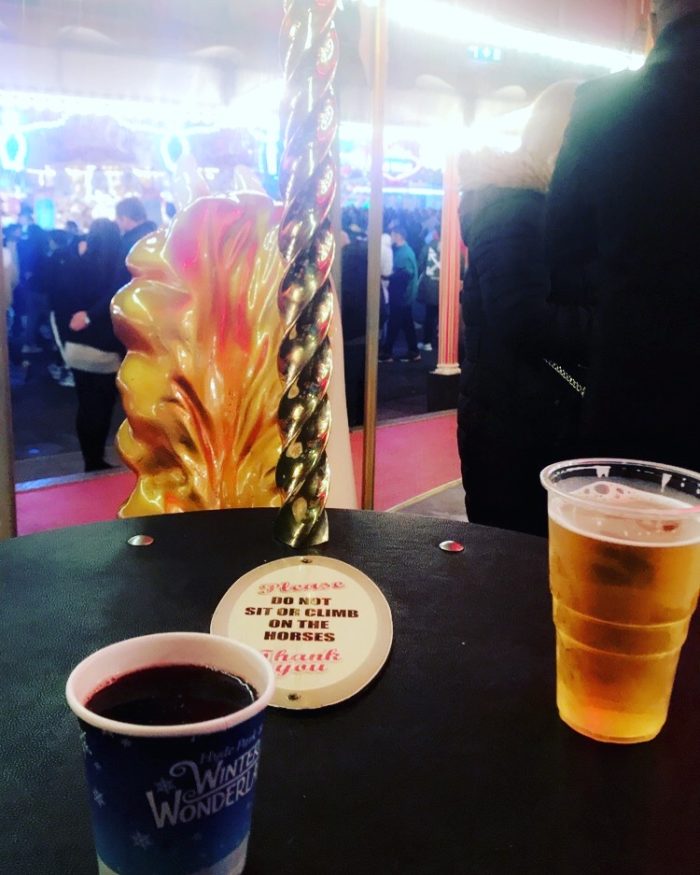 After the fair we wandered around Oxford street looking at the lights and stores before finding a restaurant for dinner and heading home. The little cafe we stumbled upon even had truffle gnocchi with a vegan cheese sauce!