Today I took the day a lot slower, since yesterday had been jam packed with walking and sight seeing. I started the day with a walk down to the water, through the Arco da Rua Augusta and to the Praça do Comércio.
Then I walked to the Elevador de Santa Justa. Lisbon has several of these wrought-iron elevators that are beautifully decorated on the outside and very nice wood lifts on the inside. They originally were part of normal public transport, taking people between the extreme height differences caused by the hilly landscape the city is built on. Now they are mainly a tourist attraction but the view from the top is absolutely breath-taking.
The elevator took me to the ruins of the Convento de Carmo that had been destroyed by an earthquake in 1755.
I then walked to a park with another beautiful view of the city, and ate a late lunch. For lunch I had these delicious fried cod and cheese potato balls which were delicious.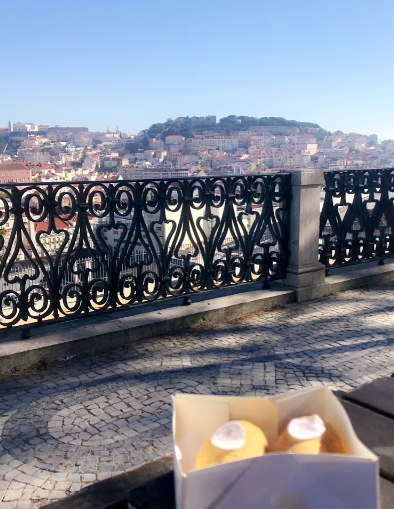 After lunch I made my way down to the Monumento aos Restauradores and sat in the square studying for my exam this coming week. Even an escape to another country can't save me from being a student. One of the shops on the square was a canned sardine shop, and sold only canned sardines. Canned sardines are really common in Lisbon, and have become somewhat of a tourist/souvenir buy.
After a quite afternoon I walked back to the ocean, and ate dinner at the Time Out Market. This is a huge indoor market, half of which has normal stalls, and the other half is a massive cafeteria, with seating in the middle and the walls lined with different restaurants you can eat from. It seemed like a very upscale version of a mall food court, but with much better food and lots of wine.
I finished off the night by walking to the docks, and listening to some street music while I watched the sun set.