We started the day with a walk through Green Park and visited Buckingham Palace taking lots of photos of the fountains and statues.
Next we walked to Trafalgar Square, and had a quick coffee in a book store we walked around the square. Trafalgar Square was originally built in the Charing Cross area before it was named to commemorate the Battle of Trafalgar, a British naval victory during the Napoleonic Wars. There was a cute little Christmas market in the square and the National Gallery along with fountains and statues.
We had a nice view of Big Ben but unfortunately it is under renovations and so is completely covered in scaffolding. I think these photos sum up the feelings of crossing an entire ocean to visit London for the first time and not being able to see Big Ben. Good thing there are many other wonderful things in London.
Then we walked passed Downing Street, which is understandably very guarded and protected so you can't actually see 10 Downing Street. We also saw horse guards on Horse Guard Avenue.
We went to the Churchill War Rooms Museum which was one of Joey's ideas and was an absolute treat. The museum is under ground in the actual rooms they were in during the war and there was a lot of information not only about Churchill and the war, but also about the lives of the people who were in the war rooms.
We then walked to Westminster Abbey and saw the houses of parliament.
We then went on the London Eye! This was my first time actually getting to ride the eye and it was a lot of fun. The city looks so different from the air. The ride was 30 minutes and we got to walk around the carriage and just peacefully observe the city which was nice after a hectic day. And Joey got to gaze at the shard, our favorite building!
After our ride on the London Eye, we went back to the hostel to get dressed in some nice clothes for afternoon tea at Harrod's, another first which I have always wanted to do. We got to eat sandwiches and desserts while they played the most random songs on the piano, from Les Miserables to Back Street Boys. We finished off with some delicious scones. We had Harrod's Earl Grey No. 42 which was so delicious and flavorful we went down stairs afterwards and picked ourselves up a few boxes to take home.
That night we went to King's Cross Station and went to platform 9 and 3/4 and Joey tried with all of his might to get through the wall. He even ran and threw himself at the wall very comically.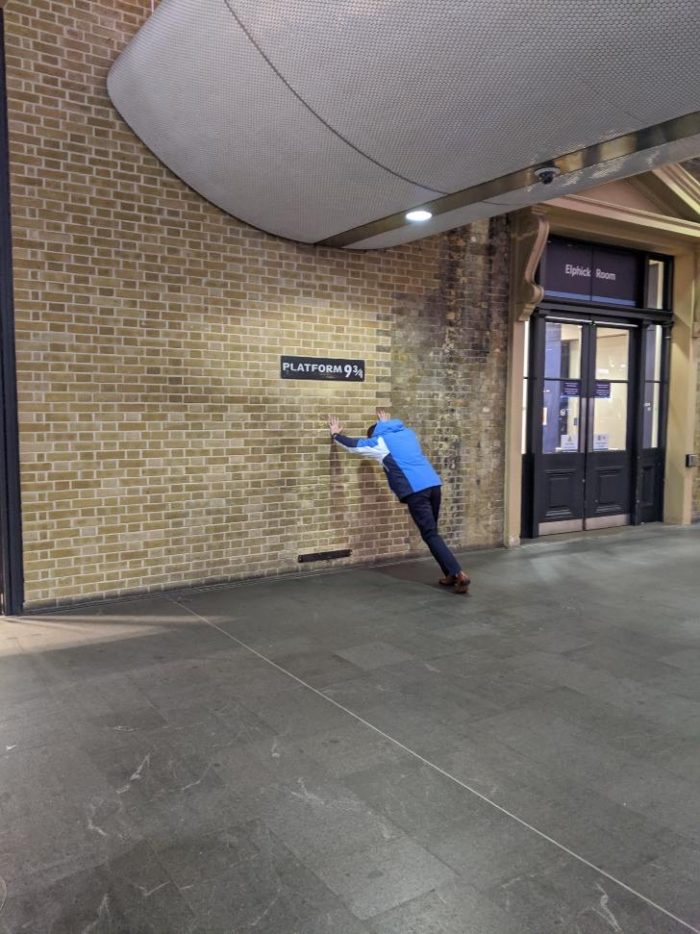 After a very long, busy, and fun filled day we headed back to the hostel for an early night.