Happy New Year!
After the very long and eventful day before and night, we slept in and decided to take it easy for the first day of the New Year.
We went out to brunch, one of Joey and I's favorite things to do together, which was nice to get to do together in London. We went to an odd restaurant that was packed because it was one of the few that was open for the holiday. The food was delicious, vegan bacon for me, and Joey had his first taste of black pudding!
After we went back to the hostel and got dressed for the soccer game! We got tickets to see a premier league game which was very exciting. We got club tickets for the West Ham game against A.F.C. Bournemouth. The club was very fancy and was indoor and heated. We hung out in there for a few pints of Murphy's before the game (which I thought was really funny they had in a stadium in London because it's made in Cork!). We even got to see an interview with a famous soccer player.
The game was in London Stadium where they held the Olympics. Our seats were wonderful because they were very spread out and gave lots of room. Two of the surprising things about the game were that we weren't able to bring alcohol in to the stadium so we couldn't drink while watching, and it was fairly quiet, there were no large flags waving or constant songs and cheers. It was also a lot colder than I was expecting which made having the club room to warm up in during half even better.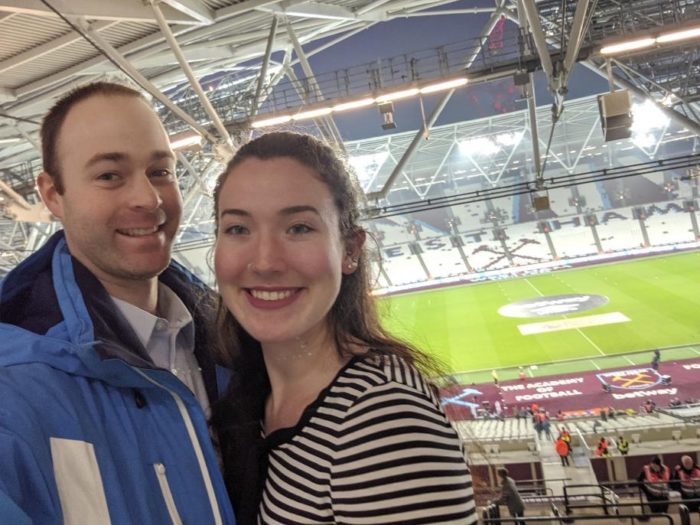 Overall the soccer game was so great and exciting. Neither team were doing very well but West Ham really needed to win this game, and win they did. They scored three very exciting goals in the first half, one was a penalty kick. They used VAR several times, and even used VAR to take back a red card! (But even from the stands we could see it wasn't a red card, the worst call I've ever seen!). They scored another goal in the second half to finish 4 and 0 and kept the excitement going until the end.
Next to the stadium was a ramen place so we stopped there for dinner on our way home. Trying new ramen places is another little tradition Joey and I have since our trip to Japan. The ramen was nothing close to the ramen we had in Japan but it was absolutely delicious.
The day was a really perfect day, relaxing, lots of fun and lots of food, getting to do things Joey and I love to do. I could not have asked for a better way to start the new year!